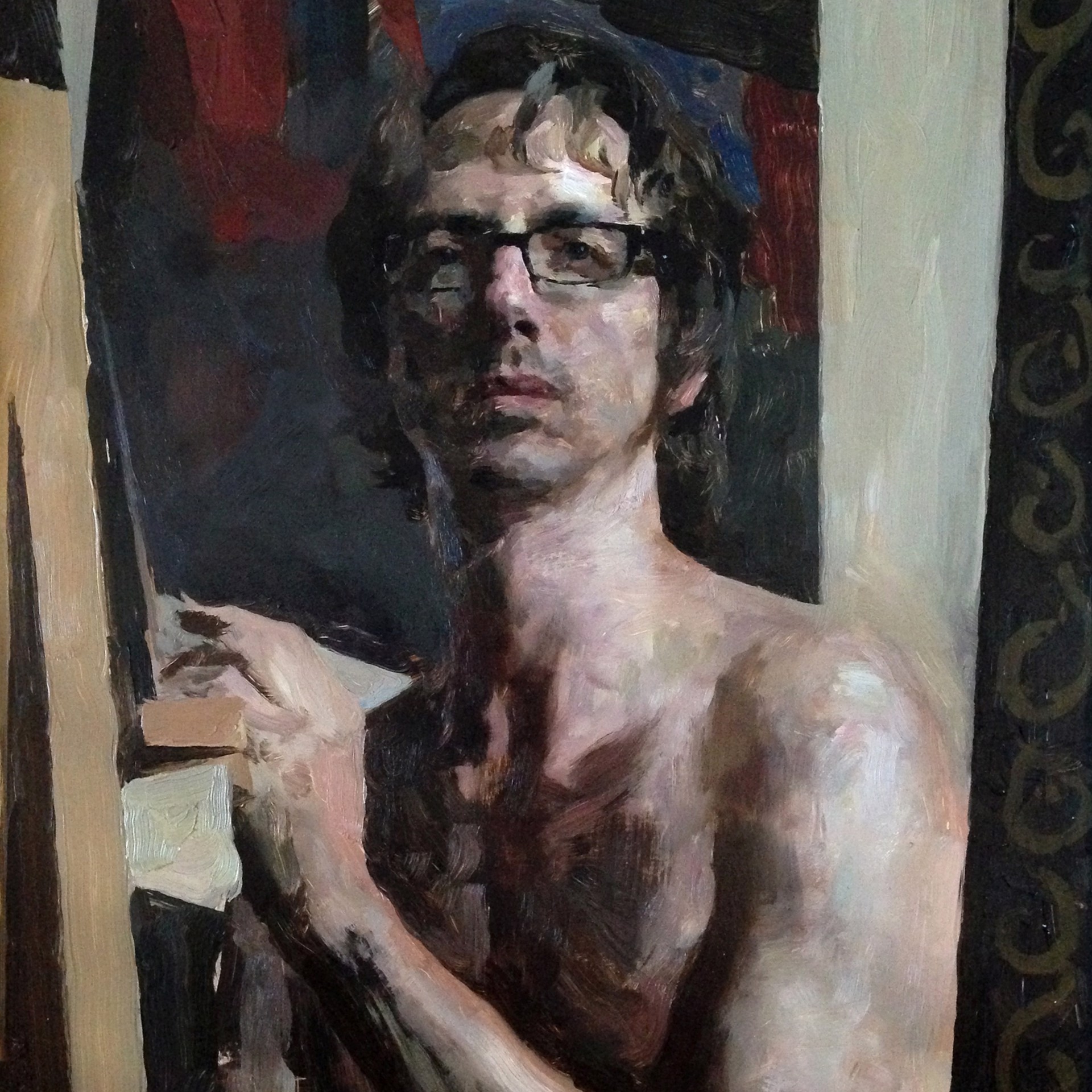 Hollis Dunlap was born in northeastern Vermont in 1977. He was interested in painting and drawing from a young age, inventing imaginary figures, landscapes, and other compositions in whatever media was available. At the age of fourteen, he began using oil paints to experiment with still life painting. Encouraged by his high school art teacher, he began taking private oil painting lessons, studying the figure, and painting landscapes on-site.
During his high school years, the artist augmented his school art classes with after-school figure drawing programs, developing his familiarity with the human form. Dunlap began to study the old masters extensively, copying many master drawings and paintings to absorb the work's spirit and the technical lessons offered. His goal was to combine classical drawing in the style of Michelangelo with the subtle color and lighting of painters like Vermeer. After graduating from high school, he studied at the Lyme Academy College of Fine Arts. In College, he received extensive training in drawing and painting the human figure from life and painting hundreds of landscapes on-site. During his time at the Academy he received several notable awards, including winning the National Arts Club Student Show first prize for two consecutive years. Upon graduation, he received the Stobart Fellowship, a grant to paint for a year and hold a solo show at the end of that time.
Mr. Dunlap has an excellent appreciation for highly realistic painting and sculpture, as well as a love of open-air landscape painting. He enjoys the challenge of accurate drawing and the beautiful transparent qualities of oil paint and spontaneous brushwork. Many different painters and techniques have influenced him, and the qualities of color, drawing, and surface in his paintings reflect artists from Velasquez, to Edward Hopper, to Diebenkorn. In some cases, the paintings can be smooth with the brush marks hidden. Other works emphasize the plastic qualities of oil paint, showing the brush marks as a contrast to the realism of the image. In terms of design and brushwork, the paintings can be viewed as abstract images, collections of colors and shapes that, when put together, happen to look like a realist image. Paint application is extremely important, and subtlety of color harmony is studied with careful attention to detail. In addition, the painting process and revisions add to the tactile qualities of the work, creating a painting surface with contrasting areas of thick and thinly applied paint.
Over the past few years, Mr. Dunlap has had several one person shows in New York and Boston and has taught painting and drawing in several locations on the east coast, including the Lyme Art Association, Mystic Arts Center, and Lyme Academy College of Fine Arts. He currently maintains a studio in Eastern Connecticut.
Read More